Putting such "ad blockers" within reach of hundreds of millions of iPhone and iPad users threatens to disrupt the $70 billion annual mobile-marketing business, where many publishers and tech firms hope to generate far more revenue from a growing mobile audience. If fewer users see ads, publishers—and other players such as ad networks—will reap less revenue.

The move also is a competitive weapon against Apple rival Google Inc., which makes more money from Internet advertising than any other company in the world.
Ad Blocking is now moving from third party initiatives to a broad assault based on platform technology. This is going to be painful for those whose ad-supported business model is in danger of breaking. There will be blood.
RumorTV
According to sources, the fourth-generation Apple TV will be priced below $200, and is on track to become available in October. Apple executives are apparently still finalizing the price of the revamped living room device, but the latest options call for a starting price point of either $149 or $199, both higher than the third-generation Apple TV.
Looking Out
Over the past few years, for example, Loeb has suggested searching for aliens by looking for artificial lighting on Pluto, in the admittedly unlikely event that extraterrestrials (ET) have set up an outpost there. He also has proposed trying to detect industrial pollution on distant exoplanets. His latest notion, laid out in a paper he and a co-author just put online: We should look for the microwave beams ETs might use to send light sails wafting between the planets in their home solar systems.
Parting Words
Thanks for reading.
A private conference in Washington with the attorney general (in itself a rarity for many tech magnates) would have been unthinkable for Cook's irascible predecessor, Steve Jobs, who actively disdained D.C. Cook, much as he sought to shirk Jobs' shadow as CEO, had also endeavored quietly to rethink his company's relationship with the nation's capital, becoming a leader not only ready to engage its power brokers but challenge them openly when it mattered most.

In the months since Edward Snowden's surveillance leaks rattled the tech industry, Cook has become one of corporate America's loudest activists on a range of issues. He's met with members of Congress. He's reached out personally to top administration officials, including, most recently, Holder's replacement, the newly minted Attorney General Loretta Lynch. The first openly gay CEO of a Fortune 500 company, Cook has brought his name and Apple's brand to bear in major national debates, especially same-sex marriage and equality. And his brand of passionate, targeted political activism has furthered his company's vast political agenda, from advancing tax reform in Congress to addressing the pitfalls of surveillance—a privacy debate that continues to confound the nation's capital.
Loose Ends And Hiccups
So I packed up my old iMac, took out a credit card, and within minutes walked out of the Apple Store with both my old iMac and a new iMac with 5K Retina display. I drove home, anxious to discover whether Time Machine really would do what it was supposed to do. Would it "just work"?

The answer is "more or less"; I did get all of my backed-up files restored, and most of my settings as well, but there were more than a few loose ends and hiccups along the way.
Follow-Up Music
Drake's decision not to participate in Tidal's live stream of the Lil Weezyana Festival was precisely that — Drake's decision. And sources familiar with the situation tell BuzzFeed News that Apple did not threaten Tidal with any legal action whatsoever — let alone one with $20 million in liabilities attached to it. "No one even knew this was going on until the Post piece hit," one of the sources said, adding that it's not even within Apple's power to file such a suit.
Stuff
Seeking deeper insight into epileptic seizures and their effect on the human body, Johns Hopkins' ResearchKit study will collect heart rate sensor and accelerometer data from Watch, gyroscope data from iPhone and dynamic user feedback to track a variety of biometric measurements during a seizure episode, according to a source familiar with the project. The iPhone and Watch apps, now in beta testing, are slated to go live on Sept. 18.
But while Planted isn't likely to hook users up with their dream jobs, it does excel at identifying real start-ups that are actually hiring. The job search is demanding and exhausting, and one of the hardest parts is simply finding new places to apply. Planted helps to solve that problem.
These days, developers are trying to create video games to teach just about everything. It seems pretty clear that learning through digital play can be extremely effective. So there's a race on to build the best apps and games to teach each and every subject. I recently tested an iPad app designed to teach music and I was reminded of a few key things we should all keep in mind about learning through digital play.
Develop
So far, Mixi itself isn't saying much. The company did, however, update the official Monster Strike page with a message that indicates Apple saw problems with a serial code input form inside the app and asked to remove it.
Parting Words
Thanks for reading.
A year ago — hell, even a month or two ago — these emails would have really ruined my day, if not my whole week. Today? I'm writing this post, and then moving on with my day, saying extra thanks to all of those wonderful people in my life. That includes you, a reader of my site. At this point, I've become numb to these sorts of attacks.
I can be your mechnical-turk-email filter that not only removes spams, but also emails from assholes. Hire me.
Upcoming From Apple
A native SDK that takes advantage of the hardware fully will, for the first time ever, turn the Apple TV into a platform, a self-sustaining life form that Apple likely hopes will dominate competitors who have done only slightly better about adding third-party support.
The group will work to advance the development and manufacture of so-called flexible hybrid electronics, which can be embedded with sensors and stretched, twisted and bent to fit aircraft or other platform where they will be used.
The End Of One-To-One
One to One launched in 2007 as a $99 per year subscription program where a Mac user could make appointments with a "Creative" at an Apple Store to learn more about using their Mac and creating content with either consumer or professional applications. Apple cites "fewer customers" signing up for One to One as the reason behind the service's upcoming closure.
Still Chased By Ghosts
The basics of the Pac-Man formula are still there. You still eat dots, get chased by ghosts, and eat power pellets that let you turn the tables on the ghosts. But, of course, Hipster Whale has mixed things up.
Search Means Search
App Store Bitching, by Dr. Drang, And Now It's All This
In the seven years since the App Store was established, I have never tapped on the Search button without wanting to immediately type in a search term. And yet for seven years, the App Store has forced me to stare stupidly at my phone for a second as I wonder why there's no keyboard for me to type on.
The Lawyers Are In Action
Lawyers were called in because the event was being streamed live via Tidal — and Drake has an exclusive deal with Apple Music said to be worth up to $19 million. Sources say the tech giant threatened to sue for $20 million if Drake appeared, or if his music was streamed live, on Tidal.
Creating Worlds, Visiting The World
Even by the standards of the bulbous grey contraption that was the 1980s computer, the Amstrad PCW 8256 was an unlovely thing. The poet Hugo Williams, deciding to stick with his old Adler typewriter, dismissed it as a "grisly gulag of beige plastic". But while it failed to win over Williams, the Amstrad did manage to convert a vast army of his fellow authors. Its launch 30 years ago, in September 1985, was a significant moment in British literary culture – the tipping point when many writers, published and aspiring, made the trek to Dixons, where it was exclusively sold, and joined the computer age.
I pull Carmack back to virtual reality, and he adjusts without the slightest intermission of his upbeat tempo. "I think there is a moral aspect to [virtual reality technology], to take some slice of all of the experiences money can buy and replicate them digitally for everyone to experience," he says. "I want to see a world where there are a billion people in VR who are experiencing that wealth multiplier. If it can do one percent of the experiences of life, and we multiply that times a billion, that is a huge thing."

He drives his point home with the analogy of a private island, explaining that although in "reality" few can have their own island, everyone can experience having their own in "virtual reality." He likes this point ... that VR can avail the experiences of the 1 percent to the 99 percent. The redistribution of wealth is certainly not in his libertarian mindset, but the open distribution of virtual experiences? This is important to him.
Time is the one thing you can give yourself in abundance. It is often the one resource the young own. Ironically, if you exploit your gift of time as you travel, you'll gain more than any billionaire can. Without exaggeration, you'll earn experiences that no amount of money can buy. Seriously. Although it tries, money cannot buy what time delivers.
Parting Words
Thanks for reading.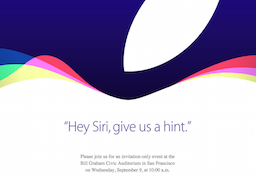 Apple has just sent out official invitations to media outlets for its next special event on September 9th. The tagline this year reads "Hey Siri, give us a hint." The event will take place at 10 am PT at Bill Graham auditorium in San Francisco, California.
As is usually the case with Siri's canned replies, she can be a bit sassy when pumped for clues. "You're cute when you're desperate for information," she might say.
Since the completion of the deal Mr Rogers has led the development of Apple's Beats1, hiring Zane Lowe, the former BBC radio DJ, as a presenter and crafting an eclectic mix of shows streamed from London, New York and Los Angeles that have been well received by critics and listeners.

News of his departure caught colleagues off guard. He is leaving the west coast to work for a Europe-based company in an unrelated industry, people familiar with the situation said.
Perhaps best known as the guy who introduced Steve Jobs and Steve Wozniak, Bill Fernandez speaks out on Apple's founding magic, how love built the first Mac, and the interface of the future.
Stuff
Drawing feels smooth and effortless, just as on the full Astropad iPad app, and though using an iPad pressure-sensitive stylus on an iPhone takes some getting used to—I found it most functional when my iPhone was lying on a table, rather than trying to hold it up—it's still a pretty delightful experience.
Version 1.3 simplifies how workflows can be launched and executed thanks to the widget, it makes it easier to share workflows between devices, and it expands the scope of the app beyond traditional productivity and automation with Health actions.
The new version offers a better alternative to something like Apple's AirDrop, for example, as it lets you transfer as many files as you'd like, with no file size limits, while also not counting against your data plan due to its use of Wi-Fi to make the file transfer.
Apple has partnered with PayAnywhere, a mobile credit card reader service that is currently used at over 300,000 locations in the United States. Apple Pay is already supported by the largest banks, retailers and credit unions in the country, and the latest integration with PayAnywhere allows small businesses to take advantage of the contactless payment service.
Remote-access apps are a popular category on both the Apple and Android app stores, so Parallels Access certainly has plenty of competition. However, its graphical interface helps it stand out from its rivals by making it easier to use desktop software with the touch-sensitive controls of mobile devices. That interface, along with useful features such as the File Manager, make it one of the most efficient and productive options for getting work done when you're away from the office and need to connect to a remote computer.
Develop
But here's what happens now. Sometimes I go to write some Objective-C code and I sigh at the effort — because I know the Swift version is half as long. I sigh at jumping to the top of the file and adding an import, and I sigh at switching to the .h file and adding a method.
Notes
Google on Thursday informed developers of a five-line bit of code crafted to sidestep Apple's upcoming App Transport Security encryption feature in iOS 9 by creating HTTPS exceptions, which could in some cases block mobile ads from appearing.
While most vacationing email recipients keep it simple (listing the contact information of their next-in-command and making a vague promise to get back to you by a certain date), some cannot resist the opportunity to inject a bit of their personality into their correspondents' inboxes in absentia.
Parting Words
Thanks for reading.
A version of the f.lux app released last week includes a "backwards alarm clock," which will remind you to go to bed if you're still using your computer when you should be catching z's. The app sends an alert every half-hour in the nine hours leading to your wake-up time. For example, if you're on your computer at 10 p.m. and you're supposed to rise at 7 a.m., f.lux will tell you you're cutting into valuable sleep time.
It incorporates visual programming elements plus mechanical and electrical engineering in a platform for inventing and building cool stuff. Or in human language, it lets you design and build all kinds of "machines" on your iPad, using your tablet's own features and functions.
Stuff
After using Apple Mail for a few years you may have noticed that, when adding contacts to a new email message, a long list of email addresses appears. Some of these may be in your address book, but it's often the case that these names are people you haven't sent messages to in years or that you emailed once, but have no intention of emailing ever again.

Why the long memory? Apple's Mail app, for the sake of convenience, collects the names of everyone you send email to so you don't have to chase down an email addresses for people who aren't in your Contacts app. It's a nice feature, but may make addressing email messages a little messy after a few years go by. Fortunately, you have a couple of options for cleaning up the mess.
Now if you're short on space, there are some iTunes media files that you don't need to back up. Here's an overview of how to back up your iTunes media files, and which ones you need to back up.
Instead of wasting time on Snapchat, use these clever apps to help you study smarter and get your homework done faster.
Dispatch is still the email client to have if you want to make messages actionable and leverage other apps you may already use – such as OmniFocus, 2Do, Todoist, Fantastical, and dozens of others – to make email part of your existing iOS workflow. Dispatch is a versatile email client that understands the convenience of app integrations and shortcuts, and that fully embraces extensibility to make triaging email faster and more efficient.
A free new iPhone and Android app called Companion allows users to let friends or family members identified as "companions" keep an eye on them through their GPS location while traveling to their destination. When they make it home, companions are automatically notified via text message, as is the case should users not arrive at their destination by their GPS-predicted arrival time.
Frustrated by how difficult it was to have spur of the moment get-togethers with friends, Stanford classmates Joseph Lau and Nikil Viswanathan spent a Friday afternoon in San Francisco's SoMa district building what they called Down To Lunch.
After being announced back at E3, Lara Croft GO has officially been released on iOS and Android. The turn-based puzzle game will offer a new look into the world of Tomb Raider with its animation based design. Square Enix leans heavily on the success of Hitman GO, melding its board game style navigation with the world of Tomb Raider. The gameplay is based around simple puzzles with beautiful graphics.
Notes
Parting Words
Thanks for reading.
Thomas Worth swears he didn't expect any of this. He never expected that, 10 days after it launched, VHS Camcorder, his goofy $3.99 video app, would be No. 2 on Apple's chart for paid apps, second only to Minecraft. Or the torrent of email, tweets, and castigating for an Android version. (It's coming, by the way.) Most of all, he didn't expect people to love this crappy retro look as much as he does.
In the time since I got the watch I've been at work, travelled away from home during the summer holidays and am now back to work again for the new term. I was reminded that I wanted to write this when I noticed how dirty my watch had become from my constantly interacting with it during the day.

One of the things about the life and work of a teacher is that, firstly, your day is highly scheduled. There are rarely more than a couple of hours in a working day where your use of time is not dictated to you. The second thing is that you live and die by your management of a hundred small things to do, tell people, collect, hand out, look for or send for.
"Energy Impact" is a flawed measure of an application's power consumption. Nonetheless, it's what many people use at this moment to evaluate the power consumption of OS X applications, so it's worth understanding. And if you are an OS X application developer who wants to reduce the "Energy Impact" of your application, it's clear that it's best to focus first on reducing wakeup frequency, and then on reducing CPU usage.
Stuff
Develop
At scale, life is easier when you rely on as few third-party libraries as you can get away with. Fortunately, you don't need that many. That seems odd coming from a web background, but Cocoa is a "batteries included" platform. Out of the box, you've got frameworks for animation, networking, persistence, and everything else you need for most apps.
On Scripting, by Brent Simmons, Inessential
The trend toward silos, sandboxing, and highly-controlled experiences is clear.
Notes
Apple's combined appointment scheduling service is being referred to as the "Concierge" and is deeply integrated into individual Apple Retail Store pages with today's update, versus it previously being its own website.
This is a company that has delighted in forging its own path, deaf to the day-to-day hubbub of the markets. Perhaps the fact that it now seems to be listening to that noise is what should really worry investors.
In a statement, the appeals court said it confirmed a ruling by the lower Federal Patent Court that canceled Apple's German patent, based on the technique's similarity to a phone released by Swedish company Neonode Inc a year before the iPhone's 2007 launch.
Many Americans don't want to let go of tipping because they see it as a step toward socialism, or because they don't want to lose the power to judge service.
Subway Love, by Max Stossel
Parting Words
Thanks for reading.
Cook says that their performance so far this quarter is 'reassuring' and believes that China is an unprecedented opportunity over the long term, thanks to the growth of the middle class in the region.
Apple Inc. CEO Tim Cook's decision to give a rare midquarter update on the company's performance in a private email to CNBC's Jim Cramer on Monday may have violated federal disclosure rules, lawyers said Monday.
Stuff
You can condemn it for many problems, but it's good to sometimes take a step back and give it credit for the features that work so well that you hardly pay attention to them. I've picked ten things that iTunes does right.
Everyone who uses a computer needs a dependable way to back up their data. After carefully comparing 20 services and testing six, we believe that CrashPlan continues to be the best online backup service for most people, as it offers a great combination of useful features at an attractive (though not rock-bottom) price. Its user interface is a bit homely, but it still makes the process of restoring files less painful than the competition. It provides top-notch 448-bit encryption, its desktop app offers the unique option of peer-to-peer backups (letting you forgo paying for cloud storage, if you like), it gives you fine-grained control over its behavior, and—assuming your Mac or PC has a reasonable amount of RAM—it delivers solid performance.
One of my favorite features is the ability to search for and add missing data such as album artwork, which is more comprehensive than similar features in iTunes itself.
Roller Coaster Tycoon 3 on iOS is a decent game, and the fact that there are no in-app purchases to worry about makes it even better, but I can't help but yearn for the older Roller Coaster Tycoon games and their simpler interfaces.
Parting Words
Thanks for reading.
Parkinson's Law tells us that "work expands so as to fill the time available for its completion". Applied to software, this means that applications tend to bloatware, obese programs whose complexity makes them nearly impossible to debug and maintain. Today, we look at happier counterexamples, past and current, of ambitious products created by "hermit programmers".
Using strong PINs or passwords and various Find My Phone features is a good place to start if you'd like to limit the amount of cleanup you need to do, but in this day and age it's a good idea to encrypt your device's local storage if at all possible. Full-disk or full-device encryption (that is, encrypting everything on your drive, rather than a specific folder or user profile) isn't yet a default feature across the board, but most of the major desktop and mobile OSes support it in some fashion. In case you've never considered it before, here's what you need to know.
Stuff
"If you notice for example that your brain test scores are highest early in the day, you might be well advised to undertake important tasks that require a bit more brainpower first thing in the morning."
Here are a few cool ways the app can make you more efficient around the office.
Develop
But a funny thing happened on the way to launch: Apple rejected us. We absorbed Apple's feedback and, backed by a new design philosophy, we came up with a superior product on our next attempt and Apple approved us.

The rejection turned out to be a tremendous learning opportunity that we would like to share.
Parting Words
Thanks for reading.
Apple may be more benevolent than Amazon, Facebook, Google, or Microsoft — but it is also more dictatorial than any of those. Benevolent dictators are wonderful until suddenly they aren't.
This advice is madness. Evans is recommending against using a platform that is secure and private today, from a company with a consistent decades-long track record in this regard, because in the future they might turn coat and become an accomplice of government mass surveillance, even though, if that came to pass, we could and would all just abandon the use of Apple products.
Stuff
Students in NSW will be banned from wearing smart watches in their HSC exams this year as schools and exam boards battle to keep up with new ways to cheat. The NSW Board of Studies has this week emailed all Year 12 students with a list of items prohibited from this year's exam rooms. At the top of the list are Apple Watches, followed by iPhones , iPads and correction fluid.
Notes
We have been Creative Cloud supporters since the beginning, but this is an alarming decision that shows either a lack of understanding or concern for the impact it has on both loyal customers and new folks just getting started with InDesign.
Cars are going to change a lot in the next few decades. Electricity on one hand and software on the other change what a car is, how it gets made and who might own one. They might also change the key players. As is often the case when an industry is going to be turned upside-down, there are actually a number of separate things happening, which feed into each other and accelerate the pace of change.
Parting Words
Thanks for reading.
I want to share with you some of my advice for getting the most out of working from home, whether you're relocating for a short stint, or it's the start of a life-long change in how you do your work.

Some of the lessons I've learned fly in the face of those dreams we hold on to in the office: All those delicious freedoms turn out to be some of the hardest aspects to the setup. No alarm clock? Good luck figuring out when you start your day. No lunch time? Don't forget to eat. No boss looming over you? Better make sure you actually get something done!
Sorry
While he did not address each allegation individually, he said: "Twenty-five years ago I was a young man drinking too much and in over my head with no real structure in my life. However, none of this is an excuse for what I did. I've been married for 19 years and every day I'm working to be a better man for my family, seeking guidance along the way. I'm doing everything I can so I never resemble that man again."

Apple, where Dr. Dre, 50, now works as a top consultant, also issued a statement: "Dre has apologized for the mistakes he's made in the past and he's said that he's not the same person that he was 25 years ago. We believe his sincerity and after working with him for a year and a half, we have every reason to believe that he has changed."
Spotify is in full damage-control mode after the streaming music service's new privacy policy spurred a wave of Internet outrage. Spotify CEO Daniel Ek apologized for the kerfuffle on Friday, and promised that the company is revising its privacy policy in the coming weeks to "better reflect" its intentions.
You're not going to read 20,000 words before using the iTunes Store.
Stuff
Apple today launched an iSight Camera replacement program for the iPhone 6 Plus, which will see the company replacing the camera module in a small percentage of iPhone 6 Plus devices that have a faulty rear-facing camera.
'Pooductive' is an app that turns toilet time into a sociable activity. It lets you chat or play games with anyone else who happens to be "taking care of business" at the same time.
Develop
Instead of giving users a wrong error message, tell them how long ago they changed their password. This will help them realize why logging in with their old password is failing.
Apple has moved to a hot new technology called Apache Mesos to make sure that its Siri personal digital assistant continues to get faster — and for a much cheaper server infrastructure bill.
Notes
How the 1990s VR craze inspired an infamous—and still misunderstood—failed video game console.
Parting Words
Thanks for reading.
I began Arcadia – a novel conceived and written for an app – over four and a half years ago when a lot of people were musing about digital narrative. After working my way through three publishers, two designers, four sets of coders and a lot of anguish, I am no longer surprised that few others have done anything about it. I also understand why the NHS database could go five times over budget and not work. What should be a simple task – write story, create software, publish – turns out to be anything but in practice.
Another update, another series of changes and problems. Apple's recent update to iTunes—version 12.2.2—made some changes, and I look at one issue when purchased content now shows up in iTunes libraries. I also examine new playlist views in iTunes 12, new music sorting in the Music app with iOS 8.4, and answer a question about buying music from the iTunes Store in other countries.
Stuff.
Meep is an app following in Pandora's footsteps, but with one huge difference. Instead of music, the iPhone app creates a radio station delivering news about a user's particular interests.
You tap to open the app and it starts recording immediately. You do not have to click a button, focus anything, or turn something on. Just open the app and record.
The app's new alerts will tell you 15 minutes before rain or snow is expected to start so you can be prepared.
Notes.
Music streaming market leader Spotify has decided that it wants to know a lot more about you. It wants to be able to access the sensor information on your phone so it can determine whether you're walking, running or standing still. It wants to know your GPS coordinates, grab photos from your phone and look through your contacts too. And it may share that information with its partners, so a whole load of companies could know exactly where you are and what you're up to.
The site lay more-or-less dormant for the next 14 years. But that changed for good in late 2010, when the Internet, exponentially bigger than it was in 1996, rediscovered the site – almost entirely unchanged from its initial launch. It was reborn as a viral sensation, the web's equivalent of a recently discovered cave painting. We laughed at the site because we couldn't believe anything was ever designed this way, but also because it still existed. It remains one of the most faithful living documents of early web design that anyone can access online.
Parting Words
Thanks for reading.
Whether you're a journalist communicating with a source, a friend planning a surprise party for your hack er buddy, a philandering spouse trying to hide your Ashley Madison dates, or just a generally private person who wants to keep your communications away from prying eyes, the iPod Touch is a pretty simple option for staying private. With the right software, you can message people over mobile instant-message apps or make encrypted voice calls.

All it takes is making sure that the model is Wi-Fi only, scrupulously keeping it updated, following a few vital steps to lock it down, and, finally, installing an encrypted communications app. After that, you'll be able to exchange seriously secure messages.
Stuff.
If you take your photographic work on the device seriously, iWatermark is an iPhone app can help you protect your ownership of your images by using the long-practiced technique of superimposing marks on the image that show its yours.
Some of the best ideas are the ones that only seem glaringly obvious after they've been invented. That may be the case with Sideclick, a $30 device that adds more TV controls to the remotes that come with Roku, Apple TV, Amazon Fire TV, and Google's Nexus Player.
Develop.
The more interesting answers started to come when I followed up with, "What's the difference between a good programmer and great programmer?"

This was the point where people took a bit more time.
Notes.
Parting Words
Thanks for reading.
Wed, Aug 19, 2015The Overnight-Success-In-Six-Years Edition
When Myke Hurley and Stephen Hackett launched Relay FM, they expected to build a small independent network of weekly tech podcasts. Just a year later, Relay FM features 16 different shows and delivers 1.5 million downloads every month. Building this loyal audience was an overnight success six years in the making.
Now, when a customer wants to buy an iPod, she or he can simply pull it off a shelf without needing to wait for the product to be brought from the back room.
Stuff.
CarPlay is undoubtedly the future of in-car technology. Siri, after years of rearing, is worthy of helming a system that makes car maker's own dashboard controls feel like DOS. But it isn't a complete joyride. Apple's services are stuck in the slow lane compared with Google's beloved maps and Google Now.
Just enter the recipient's phone number, your message, and the time range when you normally leave work. The app will then use your location to determine when you are leaving and send a text message to your recipient.
Notes.
Parting Words
Thanks for reading.
Tue, Aug 18, 2015The iPhone-Videos-Into-Sundance-Films Edition
Tangerine director Sean Baker used his iPhone 5s to direct the movie, the first iPhone film shot in scope, which you wouldn't guess if you saw it on the big screen (and you should—it's now playing). Tangerine isn't composed of shaky handheld footage, like the terrible videos littered throughout my Camera Roll. It looks cinematic.

Baker used a few filmmaking tips and tricks to polish his iPhone-shot dailies, but he says literally anyone can re-create what he did—and maybe even see the finished product debut at Sundance Film Festival, like Tangerine did this year. I asked Baker how he pulled it off and what equipment amateur filmmakers can use to turn their iPhone videos into Sundance films.
Announced dates have One Direction playing on Sept. 22, Disclosure on Sept. 25, Pharrell on Sept. 26 and Florence + The Machine on Sept. 28.

It appears that Apple is making the most of its Apple Music branding, as users can tune in to Beats 1 for official coverage and follow a special Apple Music Festival page on Connect.
Stuff.
In Brian Cox's Wonders of the Universe iPad app, one of England's most renowned science educators takes you on a journey that spans time and space, while reminding you that you are an integral part of the cosmos. Whether he's in the desert, holding up a meteorite that's older than any earthly rock yet contains the precursors of amino acids, viewing a solar eclipse from India, or taking us on a virtual tour of our neck of the Milky Way, his enthusiasm is infectious.
The alarm tone will continue to ring until you actually get out of bed and begin to walk. You can set the number of steps and intensity of them, per alarm.
Don't worry, Disney has finally solved the problem of you not spending enough money in their parks.
Notes.
On A Stick
"It's some sort of extreme sport on a stick. It's 'what can I put on a stick that nobody's done before?'"
Parting Words
Thanks for reading.
Kids ask dozens of questions a day. Why does the weather change? What is smell? Where is the Eiffel Tower? A new app called WonderBox seeks to harness kids' natural curiosity to provide deeper learning connections for both kids and their families. The iOS app is revolutionary in how it combines learning videos with challenges that ask kids to create something new; and then it provides a safe environment for the sharing of these creations and discovered "wonders."
Apple's Reach
The album very likely benefited from the promotional push for the film. But for the music industry, it also demonstrated the reach and marketing power of Apple's system.
Stuff.
While Photos is streamlined and zippy compared to iPhoto, its stripped-down approach can be confusing. PowerPhotos takes some of the shock out of Photos for OS X by helping bridge the gap between old and new.
A dual-panel file manager for Mac OS X 10.9 or higher, it allows you to use two panels at once, set up your own hotkeys for a variety of actions, and more.
If I remember correctly, the very first file manager that I've used -- and actually liked -- was Norton Commander.
Develop.
All of this leads to my seemingly counter-intuitive advice: avoid being featured by Apple in the App Store when you first launch your app at all costs. Apple may hate me being honest in this regard, but they shouldn't: it behooves neither the app makers nor Apple to have a bunch of apps featured that aren't going to provide long-term value to users. It's the short-term gain for long-term pain trade-off. Big picture: it won't be worth it.
Apple ships sudo with tty_tickets disabled by default. What this means is that if you use sudo to give yourself root privileges, your sudo authentication is not bound to the TTY in which you ran sudo.
Notes.
Fairfax Media understands fees are a big sticking point in the negotiations, with big banks not willing to give Apple a slice of the $2 billion a year they earn in interchange fees, which are paid by merchants for use of payments infrastructure.
Even minor changes in wording have the potential to influence public perception and, naturally, how millions of dollars are spent.
Parting Words
Thanks for reading.
Sun, Aug 16, 2015The Null-Pointer-Dereference Edition
The exploit was discovered by Italian developer Luca Todesco, who relies on a combination of attacks — including a null pointer dereference in OS X's IOKit — to drop a proof-of-concept payload into a root shell. It affects every version of OS X Yosemite, but seems to have been mitigated in OS X El Capitan, which is nearing release.

Todesco did not disclose the problem to Apple before sharing it publicly early Sunday, so it remains to be seen how quickly the company will respond.
Array Of Content
The new iPad app brings together a rich array of content highlighting the museum's collections and exhibitions as well as its publications archive, offering access to more than 100 out-of-print titles dating back to the 1930s.
Browser Fairy allows you to set different browsers to open different links, rather than having to use the same browser for everything.
Stuff.
Many photographers unfortunately know the horror of editing a photograph and accidentally saving over the original copy all too well. While Lightroom implements a non-destructive system for saving files, Photoshop can be a bit more dangerous, and accidents do occur. Today, we will show you how to set up a safe workspace area on your Mac that will back up photographs as you edit them.
Not only does this app protect your own social and mental health, it also ensures that you are paying proper to attention to the safety and well being of the friends you went out with for the evening.
Notes.
The internals of both devices will see a notable overhaul in their Bluetooth capabilities, with each device getting a bump from Bluetooth 2.1 to Bluetooth 4.2. The upgrade will bring about Apple accessories that should see a noticeable increase in battery life and more robust communication between the input devices and the main computer.
Even as the company tests delivery by drone and ways to restock toilet paper at the push of a bathroom button, it is conducting a little-known experiment in how far it can push white-collar workers, redrawing the boundaries of what is acceptable. The company, founded and still run by Jeff Bezos, rejects many of the popular management bromides that other corporations at least pay lip service to and has instead designed what many workers call an intricate machine propelling them to achieve Mr. Bezos' ever-expanding ambitions.
Parting Words
Thanks for reading.
The thing that's preventing people from using the iPad productively is not the small screen, it's the operating system.

Right now, for most of its users, the iPad is a consumption device. It's not a PC replacement, and it's not really much better than a phone for gaming or watching movies or reading. That puts it into an awkward position. But it doesn't have to be. There's no reason the iPad couldn't replace most PCs in people's homes, and be better than those PCs at most tasks people currently use PCs for. No reason — except for Apple's lack of willingness to make the iPad into that device.
Allowing your community members to be harassed and stalked and driven off is unconscionable. Allowing your comments section to turn into the worst parts of the internet is bad for business, or should be. Abdicating the responsibility of good community management makes all of us Internet People look bad and is a completely avoidable failure mode that site owners should work harder at getting right.
Bands And Kits
Apple today introduced a new Link Bracelet Kit, which is equipped with six additional stainless steel links to make the 42mm Link Bracelet able to fit wrists that exceed 205mm.
Stuff.
Not only can you recover files that you've deleted, but also restore contacts, calendars, and reminders. This new feature also shows you how long it will be until those items are permanently deleted if you choose not to restore them.
Notes.
Still, it's worth noting that Yates' claim that FBI doesn't want keys to communications isn't true — or at least wasn't before her tenure at DAG. Because a provider, Levison, insisted on providing his customers what he had promised, the FBI grew so distrustful of him they did demand a key.
Parting Words
Thanks for reading.
Mr. Vestal's iPhone has offered him a way to squeeze in time for reading that he otherwise might have given up. He reads on lunch breaks. He even reads between meetings as he walks across Microsoft's Seattle campus, where he works as a program manager.

Before he tried it, he wondered whether reading in snippets might be dissatisfying. But to his surprise, he found he could quickly re-immerse himself in the book he was reading. "I want reading to be part of my life," said Mr. Vestal, age 35. "If I waited for the kind of time I used to have—sitting down for five hours—I wouldn't read at all."
Holding your phone "the wrong way" to shoot a video provokes surprisingly apoplectic reactions. Professional videographers tend to regard vertical videos as the mark of an amateur, and they react to these clips with the same sense of wounded outrage that snooty writers reserve for people who confuse its and it's, or who type two spaces after a period when everyone knows there should only be one.

But perhaps there's a deeper reason that Mario, Fafa and many professional videographers become so enraged: They worry they are on the wrong side of history. The future of video, it turns out, just may be vertical.
Someone will post a photo of a brunch sandwich—like, a really great brunch sandwich, one with bacon and avocado—and I won't get to comment, "omg where."
Backup Before Updating Your Stuff
The update contains a fix for a bug that gives attackers unfettered root privileges, a feat that makes it easier to surreptitiously infect Macs with rootkits and other types of persistent malware.
Apple's Diversity, Or Lack Thereof
We are proud of the progress we've made, and our commitment to diversity is unwavering. But we know there is a lot more work to be done.

Some people will read this page and see our progress. Others will recognize how much farther we have to go. We see both. And more important than these statistics, we see tens of thousands of Apple employees all over the world, speaking dozens of languages, working together. We celebrate their differences and the many benefits we and our customers enjoy as a result.
That may sound like a whole lot of progress. But a closer look at the actual composition of Apple's workforce tells a more dismal story.
Apple more than doubled the number of women, blacks and Latino workers hired in the last year, according to a report released Thursday, but the result was only an incremental improvement in its overall workforce diversity figures.
Stuff.
If you recently purchased an AppleTV, then its possible you may receive an e-mail from Apple requesting you ship the system back to Apple for a replacement. For unknown reasons besides mention of a faulty component, Apple has initiated the recall, and is offering affected users an iTunes gift card for the inconvenience.
I recently made some suggestions about how you can manage a classical music library in iTunes. Apple Music, however, can be even more of a challenge for listening to classical music. This isn't surprising; the music streaming model is designed around the "song" rather than multi-movement works, such as symphonies and sonatas. Here are a few tips to help you listen to classical music more efficiently.
Harnessing the power of art to improve our general wellbeing, the team behind the online initiative Rosie Respect have created the free iPhone app Wake Up Rosie.

Dedicated to helping young women develop courage and resilience, Wake Up Rosie is a modern alarm clock that helps people start their day in the right frame of mind through inspiring music and design. Each time the alarm sounds, Wake Up Rosie will send the user an inspirational image designed to give you a boost.
Develop.
Notes.
Apple has gotten carried away by the slick, minimalist appearance of their products at the expense of ease of use, understandability, and the ability to do complex operations without ever looking at the manual.
Without comment, the U.S. Federal Circuit Court of Appeals rejected Samsung's bid to reconsider a previous ruling largely backing Apple -- leaving the U.S. Supreme Court as the only legal option left for Samsung to try to overturn hundreds of millions of dollars in damages it now owes Apple in their ongoing patent feud.
Parting Words
Thanks for reading.
Thu, Aug 13, 2015The Only-Minority-In-The-Room Edition
On Wednesday morning, the most valuable company in the world announced a partnership with Code2040, a nonprofit trying to close the diversity gap in the tech industry. That mission, in part, comes down to the organization's fellowship program. Each year since 2013, Code2040 has accepted a class of fellows — "top performing Black and Latino/a college level computer science students," per the organization's website — and given them both on-the-job skills as well as tools to help them prepare for situations that might arise when you're the only minority in the room at work. Then, it places them at prestigious internships in the tech industry.
On Monday, after a call from The Chronicle, Apple removed dozens of offending ringtones and at least one app from HaHaas Comedy that allowed users to access long lists of "funny Asian" and "gangsta Indian" ringtones.

Some, like the ringtone titled "For Best Friend (Ghetto)" by Asian Andy, had been available for purchase for more than four years.
Doing Business In An iPhone World
All suppliers of bags, cases and other knick-knacks in the Accessories section of Apple stores will only be allowed to sell products if the boxes they come in feature a white background, with typefaces approved by Apple, and product shots that conform to Apple's preferred angles, the memo says.
But retailers' native apps face an uphill battle: It turns out there's a limit to the number of apps a consumer will use. On average, according to Forrester Research, smartphone users spend 85% of the time on their phones using native apps, but the majority of that time is dedicated to just five apps—and breaking into that top five is a challenge for any app dedicated to a single brand.
Stuff.
Apple on Wednesday released an unusual standalone update for the seventh-generation iPod nano, making unspecified changes to the media player's proprietary operating system.
Let the Apple-Music-on-iPod-Nano rumors begin.
The goal, according to the app's website, is to provide a local tour guide to inform users about a city and the city's main attractions in a format that allows users to travel at their own pace and on their own schedule.
You can now say "Ok Google" while on any webpage to get detailed answers about whatever topic your researching. For instance, you could say "Ok Google, where was he born?" while reading an article about Paul George. You could also say "Ok Google, how far away is this place?" while reading about a restaurant or shopping location.
The basic crux of the app is that it helps you ditch paper setlists in favor of digital organization. In addition, you can use the app to show lyrics and chords to your songs while you're practicing or playing a show.
Develop.
Parting Words
Thanks for reading.
You've spent the last six months or more working on a major overhaul of your app. You've refreshed the UI. Improved the app icon. You've even added a bunch of new features and removed the crusty old stuff that no one ever uses. You release it expecting universal praise. Instead, you're met with a barrage of angry tweets and a bunch of 1 star reviews from your once happy users.
We computer "experts" have faith in the deterministic nature of our machines. Web apps destroy that faith.
Stuff.
It's Microsoft Outlook: You almost certainly know what to expect from it. It does its job well, but brings nothing new to the table. If you need Exchange-based mail for work, or want a desktop alternative to the very good Outlook365 web client, it won't let you down.
InboxVudu generally does a good job of picking out things people are asking me to do.
Develop.
Given that, I made the pragmatic decision to start using @objc protocols, classes, and collection types where those things make sense, where Swift fought against my design.

And suddenly the language is a joy to use. It's like Objective-C but with type inference, no .h files, fewer imports, shorter syntax — and I get the things I was missing.
I'm Waiting For All Self-Driving Vehicles All The Time
Cyclists in Paris no longer have to stop at every red traffic light - new rules mean that in certain circumstances they can ignore the signals and keep going. The aim is to make the city's roads much safer.
Parting Words
Thanks for reading.
Photos for OS X is designed to appeal to a broad audience, with simple editing tools that let anyone improve their photographs. But is that it? Even though it's a 1.0 product (replacing iPhoto and Aperture), a lot of editing power is actually hidden beneath that user-friendly surface.
According to cognitive psychologist and neuroscientist Daniel J Letvin, many successful people use 5x3 inch index cards to plan their tasks, writing one "to-do" on each card. The key here is that, unlike a long paper list, cards can be re-prioritised without any effort – and the ability to prioritise your tasks with ease is crucial to avoiding feeling overtaxed in the moment.
Stuff.
App developers can use it to demo their latest project, get feedback from other developers or clients, or other tasks that require collaboration. If you've been designated as the unofficial tech expert in your family, you can use Unicorns to help out a family member by showing how to do a particular task. And since it's free, there's really no risk in trying it out.
The Adventures of Wisely
Notes.
In a rare move, China devalued its currency on Tuesday and analysts say given Apple's large exposure to the China market, it could hit the Cupertino, Calif. company's sales in U.S. dollar terms.
The Alphabet Net
Google will become a subsidiary of a new parent company called Alphabet, under a massive restructuring arrangement designed to let the company's businesses operate more efficiently.
It's an effective message to Wall Street to make the company structure more clear, even if it is not really that different from before (all these units once rolled up to Google CEO Larry Page and now will roll up to Alphabet CEO Larry Page).
Over the last few years, the tech industry's outsized ambitions to press ever more deeply into our lives has generated both worry and amusement. Tech founders increasingly argue that every sector of modern life, including health care, transportation, media and education, will be improved by the liberal application of computing technology.

Now Google has created a structure to realize just this supposed utopia.
On Monday, Pichai, 43, was tapped to be chief executive officer of Google itself, the dominant unit of the new holding company Alphabet Inc., a stunningly rapid ascent to the top echelon of U.S. business. Now comes the hard part. His new role will be about positioning Google for the future, which hands him some of the toughest jobs in all of tech -- like shifting the profit engine from the desktop to mobile and combating the rapid growth of Amazon.com Inc. in e-commerce and cloud computing and Facebook Inc. in social networking.
And Then, There're These
Parting Words
Thanks for reading.
Mon, Aug 10, 2015The Leave-Your-Door-Unlocked Edition
Instead of being a resource for readily available information that citizens can access at will, the Internet is becoming a tool for spying on citizens and residents of the United States. People no longer enjoy the explicit right to privacy that would protect them from warrantless wiretapping and seizure of Internet records. As Matanov's case illustrates, they're also not entitled to the legal protection of being allowed to have control over their own browser history and private records.

In an interview with the Nation, the Electronic Frontier Foundation's Hanni Fakhoury observed: "The idea that you have to create a record of where you've gone or open all your cupboards all the time and leave your front door unlocked and available for law enforcement inspection at any time is not the country we have established for ourselves more than 200 years ago."
Stuff.
Notes.
It was 20 years ago today that Netscape went public, setting off what we now know as the first dot-com boom.
Parting Words
Thanks for reading.
Sun, Aug 9, 2015The How-We-Are-Touching-Them Edition

While I stood waiting for my mother's shrimp, I watched all these people toiling away and I thought about what Mr. Jobs had said about the waitress from a few years earlier. Though his rudeness may have been uncalled-for, there was something to be said for the idea that we should do our best at whatever job we take on.

This should be the case, not because someone else expects it. Rather, as I want to teach my son, we should do it because our jobs, no matter how seemingly small, can have a profound effect on someone else's life; we just don't often get to see how we're touching them.
"Although these notifications are generally short in duration, they can prompt task-irrelevant thoughts, or mind wandering, which has been shown to damage task performance," say the report's authors. "We found that cellular phone notifications alone significantly disrupted performance on an attention-demanding task, even when participants did not directly interact with a mobile device during the task."
Develop.
Being able to dismiss the keyboard interactively is not really a big deal, it's probably a small detail that most users wouldn't even notice. But, it certainly adds a nice touch to the app.

However, It's unfortunate that the implementation is far from obvious. Developers have tried many approaches with varying degrees of success. There are few open source projects, blog posts and StackOverflow entries related to this subject, offering solutions ranging from simple to painfully complex.
Notes.
"The team really focused on saying, 'As fitness and activity and trends come and go, what would always be a good recommendation?'" Blahnik says. "It came down to sit less, move more, and get some exercise." That formula became the foundation of Activity, the Watch's all-day fitness tracker app.
Researchers say they have discovered something that teenagers already know: Young people use the Internet to maintain friendships made at school or work, but also to forge entirely new ones with peers they meet while browsing social networks like Instagram or playing a game like Call of Duty.
Parting Words
Thanks for reading.
Sat, Aug 8, 2015The Twenty-Blocks-To-Work Edition
So why does Dark Sky stand out, and why has it has become one of my most-used apps? On its initial screen, under the current conditions, it provides a forecast for the next hour that is usually on target. Not everyone will care about this, such as those in California or other places in the world where the weather doesn't change much. Nor will people who spend little time outside. But here in upstate New York, and speaking as someone who exercises outside most days, I care deeply about the weather. And more to the point, I care deeply what the weather is going to do soon, right where I am.
Having grown up playing guitar and working to become a professional musician as a young adult, studying at a conservatory and winning some competitions along the way, Kurtz found himself disillusioned and exasperated with his progress, with the disheartening sense that "ambition and expectation are sometimes not enough." So he gave up the dream of becoming an artist, borrowed a book from the New York Public Library to learn typing, and got himself a "real" job as an editorial assistant in New York, to which he walked twenty blocks to work every morning, "stunned and heartbroken, a sleepwalker."
Selling The iPhone
I do find myself wondering if iPhone might not be better served with an engaging, long-running campaign. One that creates equity for the brand, and makes iPhone even more resistant to competition.

When the product has become a platform, maybe the advertising should be a platform too.
Stuff.
Lots of readers are writing in with questions about iTunes 12 and its quirks. In this week's column, I explain how to import single tracks from CDs, which is different in the latest version of iTunes. I look at the iCloud Download column that displays in list views. I try and explain why Apple Music's music files have DRM. And I highlight a bug in the way iTunes displays some information about playlists.
Notes.
The European Commission failed to find evidence of collusion among the major music labels and Apple to quash free music streaming services such as those offered by Spotify, according to four sources with knowledge of the matter.

Investigators examined whether the labels conspired with one another or with Apple on Apple's new streaming music service in a way that would hurt rivals. The probe failed to turn up any illegal activity, though the EU will continue to monitor the market, sources said.
So if you do want to sell your music, and not direct people to Apple Music where they can stream it, you'll need to change, and then check, all your links. For small labels, this isn't a big deal, but for larger labels, this is quite a job. It's a bit unfair that Apple has done this, without, apparently, alerting labels.
Parting Words
Thanks for reading.
Fri, Aug 7, 2015The Removed-Standalone-Tab Edition
A redesign of Apple.com that went live today removed the standalone 'Store' tab, and the 'store.apple.com' domain entirely. This is an enormous change for one of the biggest online retail stores in the world.
Knowing what I know about the old online store, this was a massive behind-the-scenes undertaking, but the result looks and works like what most people would have expected all along.
Ustwo, the design studio behind the hit iPhone game Monument Valley, has teamed up with a pair of tech savvy psychologists to make a new app called Moodnotes that they think could usher in a new, more approachable model of delivering psychological therapy.

On the surface, it looks like a simple journaling app. But it actually offers much more.

You tell Moodnotes how you're feeling, and it charts your emotions over time. It gives you feedback on what you're feeling and challenges you to think more positively about situations.
Stuff.
There are two health issues many Mid-Atlantic residents fret about each summer: sunburn and Lyme disease. It turns out that smartphones, which most people have at hand even while on the beach or in the woods, can be helpful in amplifying or allaying those concerns.
Develop.
Microsoft announced today that large parts of Project Islandwood are being open sourced. The first code release is available on GitHub right now, published under the liberal MIT license. With it, Objective-C programmers can write Universal Windows Apps that'll run on Windows and, soon, Windows Mobile, Xbox, and even the HoloLens augmented reality headset.
Notes.
"Eddy [Cue, Apple senior VP] woke up on Sunday morning," says Iovine. "He called me and said, 'This is a drag'. I was like, 'Yeah, maybe there's some stuff she doesn't understand'. He said, 'Why don't you give Scott [Borchetta, Swift's label boss] a call? I called Scott, I called Eddy back, Eddy and Tim [Cook, Apple CEO] called me back and we said, 'Hey, you know what, we want this system to be right and we want artists to be comfortable, let's do it'."

So just like that, it was done. Apple would go back on its initial plan and pay artists per stream during the three month-free trial of Apple Music. A flurry of morning phone calls and this axis of power had agreed to a policy change estimated to be worth millions of pounds in customer acquisition. How long did it take? He says he's not sure but he remembers "getting a pair of espadrilles for Fathers' Day". Financial clout and beach-appropriate footwear; it seems fitting for a man who suddenly finds himself a major player among Silicon Valley's hoodied kajillionaires.
Starting today, people who live in Hong Kong and the UK will be able to access the MyHeart Counts app, which collects data on physical activity and cardiac risk factors for a heart disease study run by Stanford University.
Parting Words
Thanks for reading.
The tech company will patch a serious "privilege escalation" bug in the next security update to its desktop operating system, Mac OS X 10.10.5, the Guardian has learned.
At the hospital, "Everybody was interested [in this self-diagnosis with the help of the Apple Watch], but nobody was convinced," Robson said. But attending cardiologist Dr. Jerrold Glassman confirmed the ailment. "This was one of the rare instances where the patient was right in self-diagnosis," Robson said.

"I was watching [my heart rate] on my watch while they were watching on a [medical-grade] monitor, and they synched up," according to Robson.
Despite this, "best" does not mean "impregnable". The FBI claims that iPhones are "bricks" containing no useful information and Apple claims that iMessage is "end-to-end" secure. Neither is the case. A suspect's iPhone is hardly a brick, but rather a vast trove of information and iMessage, rather than being an impenetrable fortress, is actually metadata-friendly and seems designed to support a backdoor.
Business Machines
I don't know if this IBM partnership in and of itself is a big deal, but I think the general trend toward MacBooks being the de facto standard laptop for any sort of professional use, across all fields, is a huge deal.
Stuff.
Whether it is for work or school, the app keeps your thoughts, ideas, homework, paperwork, and all of those nifty documents structured nicely.
Develop.
Math!
Time!
Notes.
U.S. District Judge Lucy H. Koh on Tuesday ruled the case can't proceed as a group lawsuit because it's not clear enough that all proposed members of the suit suffered an inconvenience due to any "contractual breach or interference" stemming from the iMessage system.
One month after unveiling its new streaming music service, Apple has locked in 11 million trial members, company executives tell USA TODAY.

"We're thrilled with the numbers so far," says Eddy Cue, Apple's senior vice president of Internet software and services, adding that of that sum 2 million have opted for the more lucrative family plan at $14.99 a month for up to six people.
Parting Words
Thanks for reading.
Nearly everyone can ignore Thunderstrike 2 entirely. The research really is excellent, compelling work that the Wired piece unfortunately turned into a bit a fright-fest. The Web attack vector, in particular, is blocked in OS X 10.10.4. The worm can't automatically jump air gaps — those in sensitive environments can easily protect themselves by being careful where they source their Thunderbolt devices, and this entire family of firmware attacks is likely to become a lot more difficult as hardware improves, and as device manufacturers update their firmware code.
Don't panic.
A quarter of a century ago, when the Americans with Disabilities Act became law, the idea that we'd all be carrying smartphones (and some of us wearing smart watches), much less scaling mountains with them, would have seemed unfathomable. It would have been even more remarkable to think back then that people with a variety of physical impairments — poor vision, motor disabilities, hearing loss — would be getting the same rich experiences from such devices.
The first time you experience this seamless transfer of your accounts with Apple Pay, you're going to want it everywhere you purchase goods and services. That, combined with very positive word-of-mouth, is going to make entering a card number feel very antiquated. And I suspect this change will come about very quickly.
The Apple experience described by Craig Hockenberry is very interesting and positive.
On the other hand, I just realized last night that one of the iMessage from my wife never reached my phone.
Stuff.
iTunes has always been designed for "songs," and, for the most part, classical music isn't a song-based genre. Because of this, organizing classical music in iTunes can be a bit complicated. But with a few workarounds, it's possible to maintain a large classical music library in iTunes. Here's how.
As its name implies, Thumbly is an alternative iOS keyboard with a layout that's optimized for one-handed typing. Rather than using the regular typewriter-style keyboard layout that spans the entire screen, Thumbly's keyboard is laid out like a fan at the bottom corner of the device.
Develop.
With Swift coming out last year and everyone being very excited about it, including me, I thought it might be fun to do a talk that was sort of a eulogy for Objective-C. I'll try to stick with the standard eulogy tropes: we go over the life of the person, we say what we appreciated about them, then we talk about how their influence lives on. Then, in a break from tradition, at the end I'm going to say that Objective-C is not really dead. It's a Eulogy with a twist.
If the current trend persists we're heading straight for AOL 2.0, only now with a slick user interface, a couple more features and more users. I personally had higher hopes for the world wide web when it launched. Wouldn't it be ironic if it turned out that the end-run the WWW did around AOL because it was the WWW was open and inclusive ended up with different players simply re-implementing the AOL we already had and that we got rid of because it was not the full internet.
Notes.
Apple has now started uploading full versions of its Beats 1 radio shows on Apple Music's Connect. If you follow a favorite DJ on Connect, such as Zane Lowe or Julie Adenuga, you'll be able to find full replays of their most recent shows, commentary and all.
Apple surprised Swift by almost immediately changing its plan not to compensate artists during the trial period of its new streaming service. Says Swift, "Apple treated me like I was a voice of a creative community that they actually cared about," she says. "And I found it really ironic that the multi-billion-dollar company reacted to criticism with humility, and the start-up with no cash flow reacted to criticism like a corporate machine."
One obvious solution is to leave your smartphone and tablet at home. But that ignores the fact that our devices have replaced some vacation essentials, including physical books, magazines, music player, cameras, maps and in-flight entertainment.

Believe it or not, there are ways to unplug that don't require you to downgrade to a CD player.
Parting Words
Thanks for reading.
Hackers are exploiting a serious zero-day vulnerability in the latest version of Apple's OS X so they can perform drive-by attacks that install malware without requiring victims to enter system passwords, researchers said.
In fact, the researchers found that of the six vulnerabilities they tested on PCs from various manufacturers, all but one also affected Macs.
Stuff.
After three weeks of use, I can say with absolute certainty that I regret absolutely nothing about this MacBook. I don't even mind the fact that I didn't get the Space Gray model, since I have a lot of other silver-colored accessories, like the SuperDrive, and my external USB drive. I have FileVault 2 running and haven't noticed any slow-downs. I have over 300 GB free on my internal drive, so there's plenty of space. I have used Apple's new Photos app and performance is good, at least so far with my "test" library. The most CPU-intensive stuff I have done is some very light audio editing using Fission and Audacity (basically trimming, applying a few effects, and exporting) and performance has been fine. I can watch 1080p video in VLC without any issues.

And all the while the MacBook runs smooth, cool, and quiet. The screen still amazes me every day. I still love the keyboard every bit as much as I did the first time I tried it. The size and weight (or lack thereof) are both very impressive. Grabbing my laptop to go with me is no more of a problem than grabbing my iPad would be, and I get all of the advantages of having OS X with me wherever I go.
While Apple has a ton of great-looking options, its designs can be limiting if you're not a fan of their looks, price points, or materials. Luckily, third-party Apple Watch bands have hit the market, offering more affordable leather straps, glittery sport-like bands, mixed-metal designs, and more—not just cheap $20 knock-offs of Apple's own unique bands.
A "brain training" iPad game developed in Britain may improve the memory of patients with schizophrenia, helping them in their daily lives at home and at work, researchers said on Monday.
Pixcall is a photo messaging type of app where you take photos at the same time as your friends and family by creating an event.
Creators Red Davis and Hector Simpson are fans of the the Apple Watch's reminder to stand up every hour. But they want everyone to get up from their collective desks and move around a bit, not just Apple Watch owners, so they created Stand.
Develop.
It's been almost 20 years since the Anti-Mac design principles were proposed, and almost 30 since the original Apple Human Interface Guidelines were published. Did the Anti-Mac principles supersede those of the Mac?

Here I reflect on the Mac design principles of 1986, the Anti-Mac design principles of 1996, and what I observe as apparent (and cheekily named) Post-Mac design principles of 2016… er, 2015.
Parting Words
Thanks for reading.
Publishers who rise to condemn new (and still unproven) ad-blocking features on iOS and OS X ought to ask themselves one question: Who needs whom the most?

Apple's move answers the question. No need to think it's building ad-blocking technology to monopolize the field to the benefit of its iAd platform whose revenue can't "move the needle" for a company where revenue and profits mostly come from hardware (see the last 10-Q report page 25). Apple's "ulterior" motive is making everyday use of its products more pleasant, resulting in more sales: the usual ecosystem play.
Stuff.
If you've got a music collection on Spotify or Rdio, it's a no-brainer to spend $5 and have much or most of it imported into Apple Music; it'll save you a lot of time. You just need to be patient.
Do your summer plans with your kids include going to the zoo or hightailing it off to a marine wildlife park or aquarium? Have you and your kids been snapping lots of photos? And are your kids busy building forts and creating things to play with? If you answered "Yes" to any of these questions, here are some apps that can enhance your kids' already memorable summer.
Tinderbox 6.3.1, by Agen G. N. Schmitz, TidBITS
Or So I Heard
Notes.
Parting Words
Thanks for reading.
Tsunamis. Earthquakes. Hot summers. Cold summers. In short: misery all around. Climate change is already here and well on its way to making life on earth that much more difficult in the upcoming century—unless huge interventions are taken. A new app called 'Free Notes' hopes to make the consequences that much clearer to people across the globe. Simply download the app, input your town, and Free Notes will tell you how climate change will affect it, after decades of global warming.
Apple Music may take off, or its quirks and pitfalls may prevent it from really getting traction. Regardless, we've seen the writing on the wall: we've built our apps on a data source that we don't control, and it's slowly being eroded out from under us.

Given this struggle and the relatively modest sales volume of DJ apps in 2015, some folks have asked why we don't just bail on music apps entirely.
Stuff.
Whichever way you decide to go, I highly recommend a password manager for everyone out there. I can't imagine getting around the web day-to-day without it.
Google Cardboard version 2 models come with a dedicated button that taps the screen on your iPhone. Apps that take advantage of this can have simple input methods.

For the more crafty among you, instructions to build your own Google Cardboard accessory are available for free from the search giant. There's also an official Google Cardboard app for iOS that will get you started with some basic demos.
Notes.
I love Safari as an app. Neither Chrome nor Firefox has ever felt very Mac-like to me. Yet I'm increasingly using Chrome because Safari can't get the job done.
Granted, part of the fun of streaming music is the fact that artists and record labels can change the rights they've granted to a service and pull their songs, but the fact that I first noticed this right after launch just didn't make a whole lot of sense. (One theory could be that many of these playlists were pulled into Apple Music from the Beats Music service it replaced, but it would surprise me if Beats had access to music that Apple doesn't.)
Drivers of commuter shuttles for six Silicon Valley companies voted unanimously Saturday to approve a proposed three-year contract that the Teamsters Union said will raise their pay, make them eligible for overtime and paid holidays, subsidize health care and address the issue of split shifts. [...] Apple said it is working with several contractors to increase drivers' pay and working conditions.
Instead of asking permission, Postmates links consumers with restaurant listings through the local search and discovery service app Foursquare, takes orders, then calls them into restaurants and sends its couriers to pick them up. Restaurants are understandably wary of that arrangement, and some in Seattle and San Francisco are starting to speak out — including to lawyers.
This is certainly not to imply that every minor user interface or operations decision must be opt-in only -- but at the very least, issues of significant magnitude must be clearly and openly spelled out in advance, not relegated to "if we're lucky most users won't notice what we did" status.
"Cahnadah"
The Great Vowel Shift of the 14th- to 18th centuries marked the leap from Middle to Modern English, with Norman pronunciations rapidly changing words such as "lake" to no longer rhyme with "latté," as they do in other Germanic languages. That shift was responsible for most of the irregularities in English—the thousands of words pronounced differently than they are spelled. The changes today could lead to even more oddities in English in Canada and the U.S. Vowel shifts are messy.
Parting Words
Thanks for reading.
Let's try something simple - assume governments get some "back door keys" in there...
Before musicians and their advocates can move to enact a fairer system of pay, we need to know exactly what's going on. We need information from both labels and streaming services on how they share the wealth generated by music.
Apple Boxes
Stuff.
Apple uses AirPlay to send media from Macs and iPhones to Apple TV devices and Airplay-compatible loudspeakers; Google has struck some partnerships with consumer electronics manufacturers to bring casting to connected loudspeakers, and Spotify is pushing its own "Spotify Connect" technology for the same use case. The results are often apps that only work with some speakers or connected devices, forcing consumers to find creative solutions like Soundcast.
One solution is to follow the lead of experienced teachers and adjust the context (instead of the children). Do you have two children who are at each other's throats? Give them a project that lets them work together toward the same goal.

Here is a starter list of apps for all ages and subjects that can do the same thing in a much smaller space. While they won't replace a sandbox, they can go a long way to replicate the same play dynamic by using the tablet's multitouch capability so many hands can work together, all at the same time.
Develop.
We're quick to forget how hard our initial mastery of a subject is and of course it is nice to belong to some elite group. But talking people down and telling them what they can't do is really bad form, instead we should be lifting those that wish to acquire the skill up.
Notes.
Brian Whitman landed at Spotify just in time. The MIT Media Lab alum and machine listening expert joined the product team at Spotify early last year when the streaming giant dropped a reported $100 million to acquire The Echo Nest, the music data company he cofounded a decade ago. Since his time at MIT, Whitman, along with cofounder and fellow PhD Tristan Jehan, has focused obsessively on the intersection of big data, artificial intelligence, and music, using that sweet spot to try and redefine music discovery in the age when songs flow freely like water and new artists pop up by the hour. Today, he's sitting across from me in a conference room in Spotify's New York headquarters showing me what his team has been building for the last few months.
She is known as Xiaoice, and millions of young Chinese pick up their smartphones every day to exchange messages with her, drawn to her knowing sense of humor and listening skills. People often turn to her when they have a broken heart, have lost a job, or have been feeling down. They often tell her, "I love you."

Xiaoice (pronounced Shao-ice) can chat with so many people for hours on end because she is not real. She is a chatbot, a program introduced last year by Microsoft that has become something of a hit in China. It is also making the 2013 film "Her," in which the actor Joaquin Phoenix plays a character who falls in love with a computer operating system, seem less like science fiction.
Parting Words
Thanks for reading.